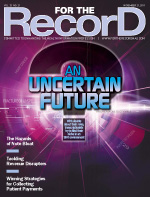 A
recent article in For The Record magazine
highlights the challenges facing the medical transcription profession as the U.S. moves slowly but inexorably toward an electronic medical record environment. The article, by freelance journalist Selena Chavis, doesn't cover much new ground in terms of what MT professionals already know: technologies such as speech recognition and EMRs are having a negative impact on transcription volume, but nobody knows for sure what the future holds for the profession.
From my perspective, there are a number of trends in motion which will impact the medical transcription industry in the coming years, some positively and some negatively. On the downside, more and more hospitals with in-house transcription departments will look at outsourcing as a cost-cutting measure. There's no doubt in my mind that in-house MT positions will become much scarcer in the next few years due to outsourcing. At the same time, some of those MTs may decide to pursue other career opportunities within their institutions, perhaps in coding, abstracting, quality improvement, or EHR support roles. Speech recognition technology will continue to negatively impact the volume of traditional transcription, but again, the increased use of SRT will create an accompanying demand for more MT editors. Finally, I think it's safe to say that EMRs will generally decrease the demand for transcription, some more than others. For instance, our local hospital is implementing the Epic EMR, and their plan is to eliminate transcription altogether (we'll see how that works out). But not all EMR implementations are created equal in that respect; some customers include a dictation/transcription option in their workflow because the doctors demand it.
Overshadowing everything in this discussion is the fact that the demand for healthcare documentation is going to explode over the next 20 years as we Baby Boomers reach retirement age. I strongly believe that over the next couple of decades, even with EMRs, speech recognition, natural language processing and who knows what else, our healthcare delivery system is going to need plenty of skilled healthcare documentation professionals in a variety of roles. Yes, we will have to adapt to new technologies and new ways of doing things, but what else is new? Adapt is what MTs do, and I have no doubt we will continue to do so for the foreseeable future.
Jay Vance, CMT
AHDI Lounge Administrator/Moderator
Director, District 1
AHDI National Leadership Board